| | |
| --- | --- |
| | CRAIG'S TIPS |
Packing for a Cruise Vacation
by Craig Stevens Corey
If you're a veteran cruiser, you may already know the ropes when it comes to packing, and what to take. If not, or if you've forgotten, here are some tips that will help streamline the process, and put your mind at ease. The most common mistake made by most first-time cruisers is that they pack too much!!!! So try this instead.
PACK THE BAGS A WEEK BEFORE YOU GO
Pack the bags a week before you go.

Keep

the suitcase open, in a visible place, like on the bedroom floor. During that

week, start the process of elimination by asking "what can I live without?" And remove it. It really works!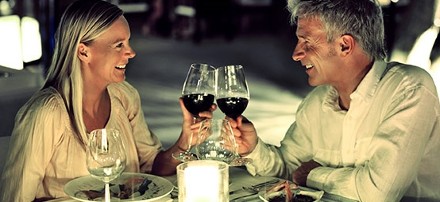 RIVER CRUISES ARE MUCH MORE CASUAL
On river cruises in Europe, and elsewhere, the attire onboard for both day and night is by-and-large extremely casual . In fact, because of the nature of the product, most passengers dress in the morning for the entire day's activities, whether a walking tour, bicycling, or otherwise where they are likely wearing shorts, and then return to the ship for meals in the same attire. However, at dinner, neat or "cocktail" casual would describe the dress on board the ships of Uniworld, Scenic, Avalon, Tauck River Cruising, and AMA Waterways for example. For evenings on board, though a jacket is not required, you may see some gentlemen wearing one with an open-collar or "polo" type shirt. It's up to you. Women tend to dress quite smart, but in a casual way. Formal attire of any kind, including evening gowns and bags, black-tie, opera-pumps, etc. will absolutely not be necessary on river cruises!
PACK CLOTHES THAT ARE INTERCHANGEABLE
The way to pack is to take clothes that are inter-changeable, and won't take up too much space. For example, on cruises that are less than 7-days, gentlemen who are not taking their tuxedos might take:
A dark suit that can interchange with either another sport coat, or another pair of trousers.

Or take one sport coat and two pairs of dress trousers, or vice versa.

Pair them with a white dress shirt, and several savvy tie choices (ties don't take up space) .

Take one pair of dark, nice shoes that can be dressed up, or down (wear these on the plane).

And t

ake a pair of sandals, flip flops or sneakers to run around in.
Take a couple pairs of shorts (cargo's work great while in port, because of the generous pockets), and alternate them with a couple of polo, or sport shirts which can be worn with a pair of khaki (wear these on the plane) trousers on "casual nights".

And don't forget your swim trunks, or board shorts!
See how easy?
Women might likewise consider bringing:
One or two dressy cocktail length dresses, perhaps in versatile black, which can be dressed-up, or dressed-down.

And one or two nice "2-piece outfits" where the tops and bottoms can be interchanged with each other, and that can be "dressed up" with jewelry (and you can bring plenty of jewelry because it doesn't take up space), or "dressed-down" for casual.

One friend explains that she takes a pair of dress shoes (i.e. black pumps) that can be dressed-up for "formal and informal" nights by adding a clip for example, and dressed back down for casual nights. And take a pair of sandals, flip-flops, or sneakers to run around in.

And just as for men, take a couple pairs of shorts and alternate them with a couple of tops, or blouses which can be worn with a pair of chinos, khaki pants or skirts (which you might wear on the plane) on "casual nights".

And don't forget your swim suit!
On 7-day or longer cruises (except Norwegian Cruise Lines*) there may be from one, to two formal nights on board where "black-tie" is optional-but a dark suit is the very minimum. For women, at least two dressy cocktail outfits would be recommended. And some of the lines have even converted to "cocktail-casual attire" for the dressiest nights! On a legendary Queen Mary 2 Transatlantic crossing you can expect 3 gala evenings onboard, and Smart Attire for the remaining evenings. But it would not be unusual to still see some ladies wearing dramatic ballgowns for the Ascot Ball, or the Carnival celebrations on board.
AND DON'T FORGET THE NECESSITIES!
A pair of shades is essential! And make sure they have a UVF protection. And be sure to bring a decent sun-screen with a high SPF factor. The heat and the sun while aboard ship, and in many tropical places (especially when it's windy) can be very deceiving and if you're not used to it, your skin can burn within minutes! And of course, bring a hat, not only if you're sunning on deck, but if you happen to stroll into town, or sightsee. Your forehead can burn very easily. On a river cruise in the South of France, and once wore a straw fedora while on a walking tour of Provence. Everybody went crazy over it! My response was "when in the Ardeche, ya gotta have good hat!"
PACK ONE OR TWO ESSENTIALS IN YOUR CARRY-ON
Words of wisdom. Always-ALWAYS carry your bathing suit, a change of undies, and one jacket/tie (or your tuxedo, if taking one) for gents, and a cocktail dress (or a ball gown if heading to the Queen Mary 2) for ladies, in your carry-on or valet bag, particularly if you're checking the rest of the bags on the flight. If the checked bags are delayed or lost (worst possible scenario,) all is not lost for the cruise! Toiletries are plentifully available on board ship, so don't worry about that, and valet and pressing services are available. "I can't tell you how many customers come back with horror stories because they did not adhere to this recommendation!!"
And, if you happen to be traveling with another person, each of you might consider packing a few of your belongings in each other's checked bags. In the event that only one of the bags is lost, that person still has some accessibility to a few of their own belongings.
IN CASE YOU'D LIKE TO SHOP BEFORE YOU GO
A great place to shop for your trip before you go is TravelSmith*, the official travel outfitter recommended by many of the World's top travel companies, including Craig Corey Vacations! Their clothing is classic in its simplicity, well made and durable, and most items are very reasonably priced. They offer a marvelous micro-fiber travel blazer that can be practically destroyed, and then pops out of the suitcase looking great! Happy shopping!
* TravelSmith does not sell formal clothing.